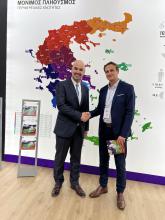 At the invitation of the President of the Hellenic Statistical Authority (ELSTAT) Athanasios Thanopoulos, on 10th September the Deputy President of NSI Dr. Svilen Kolev attended the opening ceremony of the ELSTAT stand at the 87th Thessaloniki International Fair, at which this year Bulgaria is the Honored Country. At its stand, the Hellenic Statistical Authority showed the production of official statistics in Greece as well as its efforts for safeguarding and continuously improving the quality of the country's official statistics.
Dr. Svilen Kolev and Mr. Athanasios Thanopoulos discussed at an informal meeting new areas of common interest, as well as opportunities for future development of the traditionally good relations between the statistical offices of Bulgaria and Greece.
During his visit to the 87th Thessaloniki International Fair, Dr. Kolev also visited the Bulgarian Pavilion, which was officially opened by the Bulgarian Minister of Economy and Industry Bogdan Bogdanov and Minister of Finance Asen Vassilev together with the Greek Minister for Νational Economy and Finance Kostis Hatzidakis. The Bulgarian Minister of Tourism Zaritsa Dinkova also attended the opening ceremony.
The Thessaloniki International Fair has been organized annually since 1926. Every year, government institutions and numerous companies from various sectors from over 20 countries take part in it. A rich cultural programme accompanies the event.
The Fair will continue until 17th September 2023.