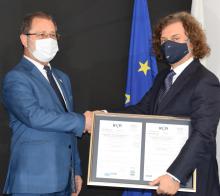 The NSI passed a successful audit and was recertified according to the leading international standards for information security and quality management - ISO 27001 and ISO 9001. On January 19, the President of the Institute Mr. Sergey Tsvetarski received the Certificate for Integrated Management System from Mr. Kalin Panev, head of RINA Bulgaria.
'For the NSI, the user needs are most important. That is why we have made a huge effort to introduce this system and to ensure both the quality of our work and the data we present to the public, as well as the highest protection of our information systems.' - Mr. Tsvetarski said during the ceremony.
The implementation of an Integrated Management System, compliant with both standards, began in 2020 and underwent a number of audits in 2021. This system allowed the creation of a harmonized management structure, improved the processes for managing the quality of statistical services and products, as well as those for information security, and created the necessary conditions for risk management.
The NSI is certified according to the quality management standard ISO 9001 from 2015 and according to the information security standard ISO 27001 from 2018. The new three-year certificate for the Integrated Management System under both standards is a more efficient and cost-effective approach. It fully meets all international requirements and guarantees the quality and information security of the entire statistical and information infrastructure of the NSI, both at national and regional level.