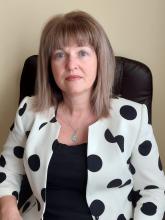 Svetla Veleva
Head of department "Statistical Surveys - Haskovo"
Born on March 16, 1973 in Haskovo.
Master's degree, specialty "Public Administration" - Burgas Free University.
Master of Economics, specialty "International Tourism" - University of National and World Economy,Sofia.
She worked in the system of the National Statistical Institute from 1996 to the present, holding various expert and management positions:
1996 - 2008 - successively held the positions of junior, senior and chief expert at TSB Haskovo.
2008 - 2014 - Head of the Economic and Business Statistics Department at TSB Haskovo 
2014 - 2015 - Acting Director of TSB Haskovo
From October 2015 to the present - Head of Statistical Surveys – Haskovo Department
Fluent in English.
 
Contact Information:
Telephone: +359 38 608888