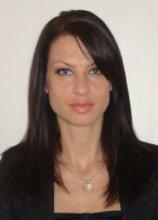 Director of RSO - Severozapad
Vesela was born on February 4, 1981 in Pleven. 
She holds a master's degree in economics, specialty "Marketing" - University of National and World Economy, Sofia аnd Bachelor's degree in Economics, specialty "Economics of Industry" - University of Economics, Varna.
She has been working at NSI since 2000 until now. During this period she goes trough various expert and managerial positions in the field of statistics of trade, industry, construction and transport.
Since 2011 she has been Director of RSO – Severozapad.
Speaks English and Russian.
Contact Information:
Address: Pleven 5800, 1 "Han Krum" Str.
Telephone: +359 64 890412
Fax: +359 64 805002