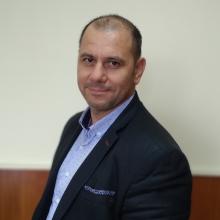 Deyan Slavov
Director of RSO - Severoiztok
Born on 16.12.1972 in the city of Haskovo.
Master of Economics in the specialty "Economics and Industry Management" - "Dimitar A. Tsenov" Academy of Economics - city of Svishtov.
He has been working at NSI since 1998, holding expert and management positions with a two-year break. 
Director of Territorial Statistical Bureau - Varna from 2009 to 2015.
Director of the Territorial Statistical Bureau - Severoiztok since 2015. 
Participation with a report at the International Scientific Conference on the topic "Modern statistics: new challenges for development.
Publications on topics "Vision for the organization and functioning of NSI in 2025", "Organization of work in NSI and TSB with application of ICT in the statistical activity", "VARNA WITHOUT LIMITS" - building an IoT system in the city of Varna to improve the infrastructure and obtain statistical data" - in cooperation with Dr. Galya Stateva. 
Participation in 2017 in an International Conference organized by the National Statistical Institute, together with the Statistical Institute of Belgium, where the results of the ESSnet project on Big Data were presented.
 
Contact Information:
Telephone: +359 52 575211