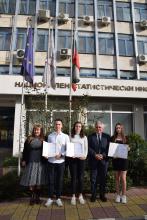 On 10 November 2023, at a special ceremony held at the National Statistical Institute, the President of NSI Assoc. Prof. Atanas Atanasov, PhD awarded the winners of the 2nd National Statistical Essay Competition for students from 9th to 12th grade. This year's competition was launched on 20 October – the European Statistics Day, and the topic students had to write on was "Possibilities of using AI for the production of statistical information".
The jury, made up of NSI experts, chose Elizaveta Nikolaeva from Secondary School "Ivan Vazov", Pomorie as the winner for 2023. The second place went to Anelia Kolcheva from the National Trade and Banking High School in Sofia, and the third place to Viktor Dambulov from the National Science and Mathematics High School "Acad. Lyubomir Chakalov", Sofia.
"It is my pleasure to congratulate you personally for your excellent results and interesting essays on one of the most relevant topics of our time – that of the use of AI for the production of statistical information and in life in general. Your essays have given us insight into how you, the young people, perceive this key technology and its future application in the field of statistics, what in your opinion the benefits and risks of using AI are, and how well you were able to support your theses with data," said the President of NSI in his address to the students and added that he hopes their interest in statistics will continue in the future.
The National Statistical Institute provided prizes for the top three winners, and certificates, statistical publications and promotional materials for all participants. 
83 students from 23 schools in the country took part in the competition, with the greatest interest in Varna and Sliven – with 15 participants from each city.
The National Statistical Essay Competition is one of the initiatives through which NSI aims to increase the statistical literacy of students in Bulgaria by provoking their creative potential and developing their skills for critical thinking and working with data.