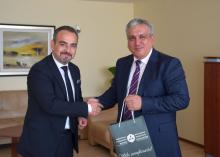 The President of the National Statistical Institute - Assoc. Prof. Atanas Atanasov, PhD, held two working meetings with the President of the Bulgarian Industrial Association's (BIA) Board of Management – Mr Dobri Mitrev, the Chairman of the Governing Board of the Bulgarian Industrial Capital Association (BICA) – Mr Vasil Velev, and the Executive Director of the association – Mr Dobrin Ivanov.
During these meetings, the possibilities for improving cooperation between the NSI and the employers' organizations were discussed.
Among the discussed opportunities were joint initiatives, in which the regional structures of these organizations and the Regional Statistical Offices (RSOs) would be involved together. Possibilities for better interaction between the branch organizations and the NSI were also examined.
Mr Atanas Atanasov stated "I have started this series of meetings with business organizations and unions in order for our data to become more useful to society. I would like to hear back from the users of statistics about what we can improve in our work and what new products and services we can offer in the future. I appreciate their ideas and thank them for their willingness to work with us!".
Today's meetings are the first of a series of familiarization meetings initiated by Assoc. Prof. Atanas Atanasov, PhD, with the social partners. The NSI President has already started sending meeting invitations in the first days of his mandate to all nationally-represented employers' and trade union organizations.