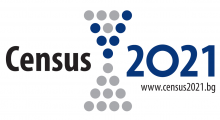 2 152 368 people have got counted electronically, show data as to 6 a.m. today, 28th September. Every one who has filled in their questionnaire online successfully has received a unique census code on their email address.
The e-census code is a 15-digit one and contains official coded information – about the municipality, control area and census section where the household is located. There is no personal information in it that could be used by another person. That's why people shouldn't worry that it could be abused.
Throughout the country the enumerators practice different ways for collecting the codes from people who got counted electronically. Besides the blue "hangers", they stick notifications in the entrances with their phone number or email address. Regardless of the way for announcing their contact information, you can contact them and submit the code. If for some reason it is not possible for you, do not worry – you are not to be fined and your count has ended and is valid.