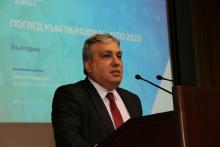 "Education is the key to overcoming society's problems, as it affects all its aspects – from overcoming poverty to reducing crime rates. Education is the investment with highest benefit because the efforts made for the personal development of a child have an affect on his/her whole life. Institutions must work together to solve problems and their focus must be on the child". This was said by the President of the National Statistical Institute Assoc. Prof. Atanas Atanasov, PhD in his address during the presentation of the publication "Education at a Glance 2023" (here), which was held at the University of National and World Economy (UNWE).
The forum was attended by the Minister of Education and Science Prof. Dr. Galin Tsokov, the Vice-Rector for Educational Activity of UNWE Prof. Dr. Matilda Boshnakova, Simon Normandeau from the OECD Directorate for Education and Skills, public officials, representatives of the employers' organizations, trade unions, non-governmental organizations and the scientific community.
"The National Statistical Institute is the responsible institution that provides the data for the Organization for Economic Cooperation and Development. Independent and high-quality statistical information is a key factor in tackling the challenges with which the education system is faced," pointed out Assoc. Prof. Atanasov.
The publication "Education at a Glance 2023" is prepared by the Organization for Economic Co-operation and Development and is one of the most comprehensive studies on the state of education systems in the world. Over the past year, the NSI team provided OECD researchers with additional data and for the first time Bulgaria is not only represented in the study, but is also included as fully as possible in comparative statistics with OECD member countries and other candidate countries.