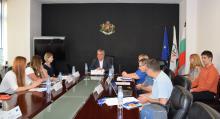 In the period 11 – 12 July 2023, the National Statistical Institute hosted a study visit of experts from the statistical offices of Bosnia and Herzegovina in the field of implementing standards for metadata and data exchange. The study visit was carried out under the IPA 2019 Multi-beneficiary Statistical Cooperation Programme in cooperation with the German consulting firm GOPA.
NSI's President Assoc. Prof. Atanas Atanasov, PhD opened the visit and welcomed the participants, emphasizing that such initiatives not only provide an opportunity for the countries of the Western Balkans, candidates for EU membership, to align their practices with the achievements of the European Statistical Systems, but are also an effective tool for the development of bilateral and regional cooperation.
Assoc. Prof. Atanasov shared that national statistical organizations play a leading role in collecting, analyzing, and disseminating data, which are an important basis for making informed political decisions, preparing economic forecasts, social research, and much more. "With the ever-increasing volume and complexity of data, it has become crucial to establish standardized methods for organizing and managing data effectively", said the President of the instituion.
Lecturers from NSI during the two-day training were Galya Stateva, PhD, State Expert in "Planning, Coordination and Quality of Statistical Surveys" Department and Kostadin Georgiev, Chief Expert in "Information Systems and Applied Software" Department. The study visit's agenda included a wide range of topics such as sharing experience and best practices for the management of reference metadata and the BNSI's quality reports, the SDMX standard as the main standard for exchange of data and metadata. Special attention was also paid to the national IT tool for creating, storing and distributing reference metadata, as well as practical exercises for completing the integrated Metadata Structure (SIMS) in the SDMX format.
The guests presented the organization and work of the statistical offices of Bosnia and Herzegovina and more specifically on the activity of data and metadata exchange.