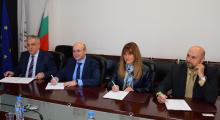 The National Statistical Institute and The Bulgarian Stock Exchange Group will cooperate in sharing and providing quick and easy access to data and services for all users. This is provided for in an agreement signed by the President of the National Statistical Institute Assoc. Prof. Atanas Atanasov, Ph.D. and the management of the Bulgarian Stock Exchange Group - Assoc. Prof. Manyu Moravenov, Ph.D. - Executive Director of the Bulgarian Stock Exchange, Konstantin Konstantinov - Executive Director of the Bulgarian Independent Energy Exchange, Gergana Papadopoulou - Manager of Financial Market Services.
One of the priorities set out in the document is "the exchange of impartial, objective and timely information on the state of the economy and the environment, the capital market and the electricity market".
The aim of the agreement is for the NSI and the BSE Group to respond to the dynamic processes in the economy and society, digitisation and globalisation. Under the Memorandum, the four organisations will work towards a detailed and timely exchange of data to increase the number of information services offered.
"The collection and processing of data is an important process to ensure the quality and reliability of statistical data and in its work the NSI strictly follows the principles set out in the European Statistics Code of Practice," said Assoc. Prof. Atanasov. It is important for us to have reliable partners, especially in the context of constant cyber threats that many public institutions and private organizations are subjected to, the NSI President added.
"In BSE Group, NSI has a reliable partner in our shared mission to provide reliable, timely and accurate information on the capital and electricity markets in Bulgaria. This partnership is an important step towards greater transparency and visibility on the state and trends of the economy and the sustainable performance of companies," said Assoc. Prof. Moravenov.