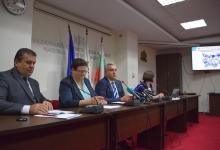 A little over 6.5 million people live in Bulgaria
The National Statistical Institute announced the final results how many people live in Bulgaria. The results of Census 2021 are released a year after the end of field work and will be announced in stages.
The population of our country is 6 519 789 people as the women are more and there are 927 men per 1000 women. For 10 years we have decreased by almost 845 000 people.
The census continues several years and comprises a lot of surveys related not only with the population and housing number but also with the way how people live, said the NSI President, Assoc. Prof. Atanas Atanasov, PhD. He thanked all people who took part in the process. The Deputy President Diana Yancheva added that all people who usually reside at the territory of Bulgaria are counted – regardless they are Bulgarians or foreigners. For the first time each address has also geographic coordinates, they are the so called georeferenced data which give information what people live in a certain area and what social services and policies they need.
Population data by sex, age, territorial distribution and density were presented by the Director of Demographic and Social Statistics Directorate, Magdalena Kostova. The trend, which began about forty years ago, of a declining and aging population continues. For the last decade, 199 settlements have been left without a single inhabitant. The most densely populated is the municipality of Plovdiv – 3135 people per sq. km, and with the least density – the municipality of Treklyano – below 2 people per sq. km. 99,1% of the country's population has Bulgarian citizenship.
By the end of the month, the data on the socio-economic characteristics of the population in our country will be announced – education degree and economic activity. All data by municipalities can be found on the NSI website in the INFOSTAT system.