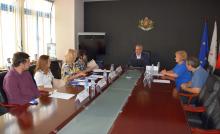 "Quality is a key element for the production of statistical information. It ensures the reliability of the information and provides the opportunity for the data to be used in the best way possible. Quality is a testament to the work of the statisticians" proclaimed in his welcoming speech to the delegation from the State Statistical Office of the Republic of North Macedonia (SSO), the President of the National Statistical Institute (NSI) Assoc. Prof. Atanas Atanasov, PhD. He highlighted that the National Statistical Institute of the Republic of Bulgaria is the proud holder of quality management certification, ISO 9001, since 2015 and ISO 27001 – information security certification - since 2018. Presently, NSI has already implemented its Integrated Management System, aligned with both standards.
In his speech Assoc. Prof. Atanasov, PhD, announced how pleased he is that the representatives of the State Statistical Office of North Macedonia are the first international guests that he is welcoming during his tenure as President of the NSI. "NSI and the SSO have long-standing traditions in joint initiatives and I firmly believe that this cooperation is greatly beneficial for both sides" concluded his address to the delegation the President of the NSI.
The head of the North Macedonian delegation, Ms. Mira Todorova, thanked NSI the opportunity to exchange experience and good practices in the field of quality management and emphasized on the importance of dissemination of quality data by statistical offices. She also underlined the successful cooperation between the two institutions.
The Study Visit on quality management will last for three days and will encompass topics like the development of strategy for build-up of National Statistical System, implementation of a system for quality management of the National Statistical System, presentation of IT instrumentarium for the creation, maintenance and storage of documentation on statistical processes, based on GSBPM, and others.