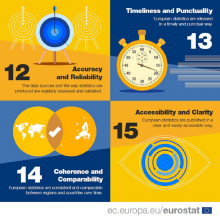 Meetings with various stakeholders completed the fourth day of the Peer Review of the National Statistical System. The international review team talked both with the representatives of the bodies -producers of data, and the users – business and employers' organisations, syndicates, media, academic community. The diverse profile of the participants in the discussions today contributed to a real picture of the cooperation of the National Statistical Institute with all groups that use statistical data in their work.
Reliability of data and trust in official statistics were in the focus of speeches. The participants in the meetings stressed that they trust the statistics produced and disseminated by NSI, and keep good contacts with the institute and its experts. The media representatives said that in the ocean of fake news the official statistics is an important benchmark for the processes going on in society. They expressed their satisfaction by the speed they get the required information, the opportunity for comparison with the other EU Member States and to have statisticians from NSI for interviewees. They want the final data from Census 2021 to be presented interactively and in detail on the Census website.
According to the employers' organizations and business associations, the necessary changes in the data provided by the companies are traditionally consulted and the NSI respects their opinion. The unions stressed that they could not do their job well without official statistics and expressed a desire to participate in technical groups that provide feedback on the work of the NSI, as well as to expand the scope of data received free of charge.
Representatives of the academic community shared that they are well acquainted with the NSI surveys, as well as the advantages and disadvantages of the methodologies used by European statistics. However, the very fact that university teachers are involved in the preparation of students from 8th to 12th grade who participate in the International Olympiad in Statistics, and they are over 1000, speaks of the trust that the academic community has in the activities of the NSI.
At the beginning of the day, the institutions that provide data to the NSI talked about joint work and various aspects of cooperation.