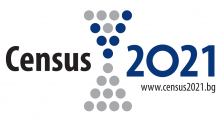 3 244 750 persons in the country have filled in successfully the questionnaire or have been counted by enumerators, show the data at the beginning of the day yesterday, 24th September. 1 652 935 are the dwellings counted.
For a week, since 18th September over 1.3 million people have been counted by paper. In 6 regions more than half of the population has been counted. The ranking is kept by Pernik (54%), followed by Sofia (capital city), Lovech, Ruse, Vratsa and Plovdiv.
In 12 municipalities across the country, there function help centres which assist the citizens willing to get counted. The help centre at the National Statistical Institute in Sofia, on 2, Panayot Volov Str., works also at weekends – from 9 a.m. till 6 p.m.
Since the beginning of the census on 7th September so far 116 000 calls have been registered on the Census 2021 phone numbers with questions and assistance requests.
As to 12.00 today 28.9% of the country population got counted electronically or it makes 1 997 476 people. The ranking is kept by Sofia (48.8% of the population of the capital city), Varna (36.5%), Gabrovo (30.6%), Ruse (30.2%) and Burgas (28.9%).