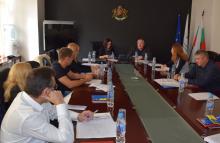 A second workshop within the project 'Improving institutional capacities and fostering cooperation to tackle the impacts of transnational youth migration' (YOUMIG), which is realized by the Danube Transnational Programme (Interreg - Danube Transnational Programme - ERDF) took place on 30.10.2018 at the National Statistical Institute.
Experts from Ministry of Labour and Social Policy, Ministry of Education and Science, Ministry of Regional Development and Public Works, Employment Agency as well as the local project partner Burgas Municipality participated.
Policies and indicators related to the measurement of youth migration were presented and were discussed during the meeting as well as the elaboration of models for multi-level governance of the phenomenon.
More information about the project can be found on the following web page: