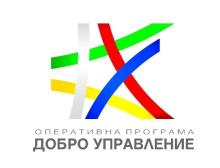 National Statistical Institute (NSI) launched a project 'Implementation of CAIS1 'Single entry point' for submission of annual financial statements and statistics in machine-readable format and integration with the NRA, NSI, RA (TR)' which is implemented with the financial support of the Operational Programme 'Good Governance' (OPGG) 2014 - 2020, co-funded by the European Union through the European Social Fund.
The duration of the project is 18 months (March 2017 - September 2018) and its total amount is 594 100 BGN.
In the frame of the project an analysis will be carried out of the legal acts and work processes with respect to the automated data exchange between Revenue Agency (RA) and National Statistical Institute. It will be implemented integrated interface for linking Information System 'Business statistics' (ISBS) and the Trade Register (TR) in connection with the requirements to legally obliged persons for submission of annual financial statements (AFS). In order to be allowed automated exchange of data between NSI and RA in machine-readable format, necessary restructuring and optimization processes of ISBS will be made and it will be created packages for data exchange with RA.
The implementation of the project aims to reduce the administrative burden on businesses by submission all the information required by the National Revenue Agency (NRA), NSI and RA in a single place - in NSI's IS 'Business statistics' with the expressed consent of the respondents. The submission of AFS is among the most frequently used administrative services and by joining the TR to the 'Single entry point', the enterprises will be able to fulfil their obligations to RA for publication of AFS.
---
1 Centralized administrative information system.