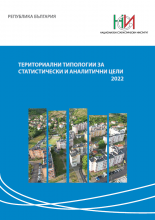 The National Statistical Institute presents to researchers and other users of statistical information a specialised digital publication in Bulgarian devoted to territorial typologies for statistical and analytical purposes.
Since 2003, the legal framework for collecting and disseminating data at a sub-national level (the different levels of the NUTS based on administrative regions) is the NUTS Regulation. Since 2017, the TERCET Regulation amending the NUTS Regulation establishes various territorial typologies. These are the grid-based typologies - rural-type grid cells, urban-type clusters and urban centres - the typologies based on the local administrative units (in different countries municipalities or settlements are used as building blocks of the typologies), degree of urbanisation, cities and their functional urban areas and the coastal areas and finally the NUTS 3 based typologies-urban, rural and intermediate regions, metropolitan and coastal regions. The Commission Implementing Regulation on territorial typologies has been published in July 2019. This document founds the common rules for the application of the different territorial typologies. The common EU harmonized definitions for the different types of areas and regions guarantee international comparability and meaningful temporal and special analyses.
The publication explains in detail the space and functional linkages between the typologies. Their broad applicability for statistical and analytical purposes has been visualised.
The paper is in theoretical and methodological relation to the NSI's work on an EU project called 'Data collection for City and Subnational Statistics'. Bulgaria has been participating in the previous phases of the project since 2004. For the last 12 years, the project's outcomes are following the European harmonised definitions of the spatial units subject to the survey.
Keywords: territorial typologies, harmonised definitions, population density, cities, rurality, visualisations, functional zoning, cohesion policies, territories with specific problems.